A kitchen remodel or renovation is top of mind for many homeowners, and with good reason.  The kitchen is truly the heart of the home and we tend to spend a lot of time there.   On the practical side of the equation, it is one of the home renovations that returns big dividends,  both in terms of your enjoyment,  and in the added value to your home.   Let's take a look at a few aspects of this undertaking and some kitchen design ideas that will ensure your project turns out as planned.
Proper Design
Getting  to that beautiful  kitchen of your dreams, or even  just an updated  look, can be achieved  if you first take some time to think about kitchen design ideas for what you are hoping  to achieve. In  many  cases,  homeowners  undertake major  kitchen  renovations  without  first  considering  how  the kitchen  is used.   An important aspect to consider is the flow of the kitchen.   How the work  areas  are separated  from eating areas,  positioning of  the appliances , and functionality  are  elements  that may not  be  working currently.   There  are various  things  that you  should consider  regarding the working  areas,  the  major traffic areas, and whether  the cooking will be done by one person or with the help of a partner or child.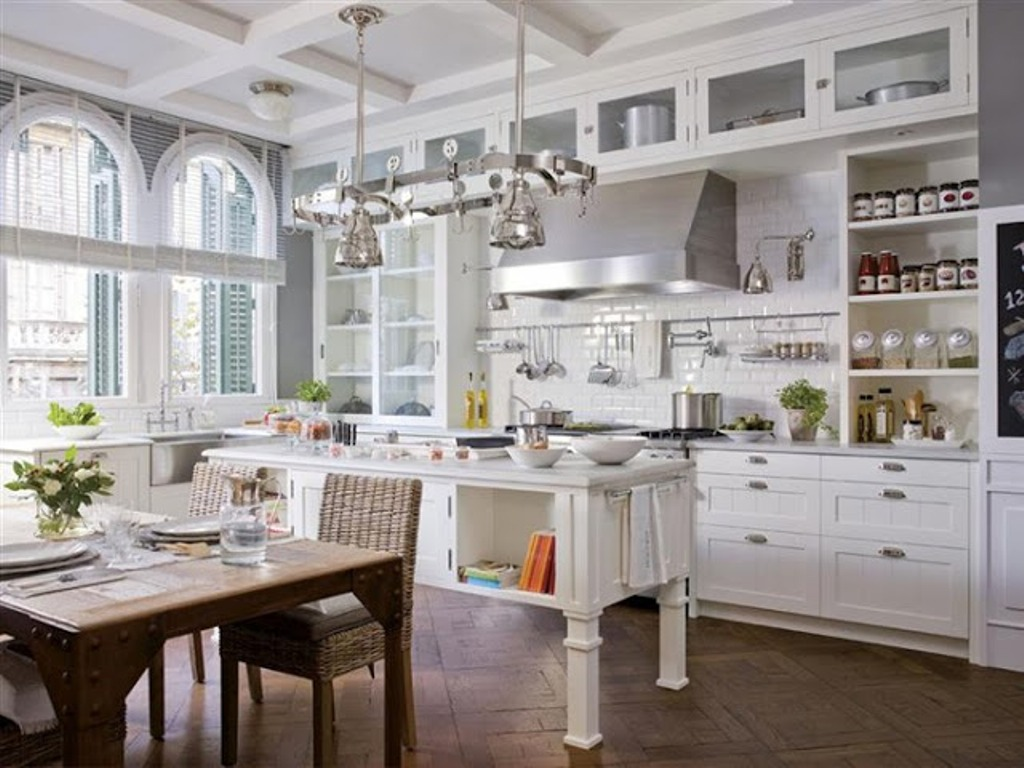 One of the basic kitchen design ideas used in creating a kitchen layout  is call the "Work Triangle" and is defined as the imaginary line from the center of the kitchen sink to the center of the cook top and then to the refrigerator and back to the sink.  The principle behind this theory is efficiency.    This is achieved by keeping  all of the major work stations near  the cook,  and minimizing traffic in the cook's working area.
Although this is a standard approach to kitchen design,  it can have its challenges  if you are creating multiple work spaces or planning  for two or more cooks to be working together.   In either case,  this step in the process of your kitchen remodel is an important one.   Many  homeowners have spent thousands of hard earned dollars on renovations only to find that the basic layout of the kitchen is a problem. Don't let yourself  get caught in this trap. Prepare some preliminary sketches with measurements to insure that you're on the right track.
If your budget  allows, seek  out the help of a designer  for advice specifically tailored to your space and needs. You can also take a trip to your local home improvement center to get some free advice on your design ideas.  Be sure to consider things like  whether you  will you have guests in the kitchen,  open storage versus closed,  the size and type of appliances,  and the accessibility of eating areas.  These are all important elements that can transform a cramped awkward kitchen into a model of efficiency and beauty.  Whatever you decide to do, you need to remember that your lifestyle should determine the functionality of your kitchen.
Another great source for reference is a companion article we have on Kitchen Remodeling Tips, make sure to check that out.
For more detail on the work triangle check out this link
Kitchen Design Ideas – Function and Decor
Your budget will of course be a guiding force in the majority of your decisions on your kitchen remodel.  No matter how big or small your budget, there are options available that can dramatically improve the functionality and aesthetics of your kitchen.  Careful selection of key kitchen components will provide that cohesive functionality that makes your kitchen a pleasant space that you will enjoy each and every day.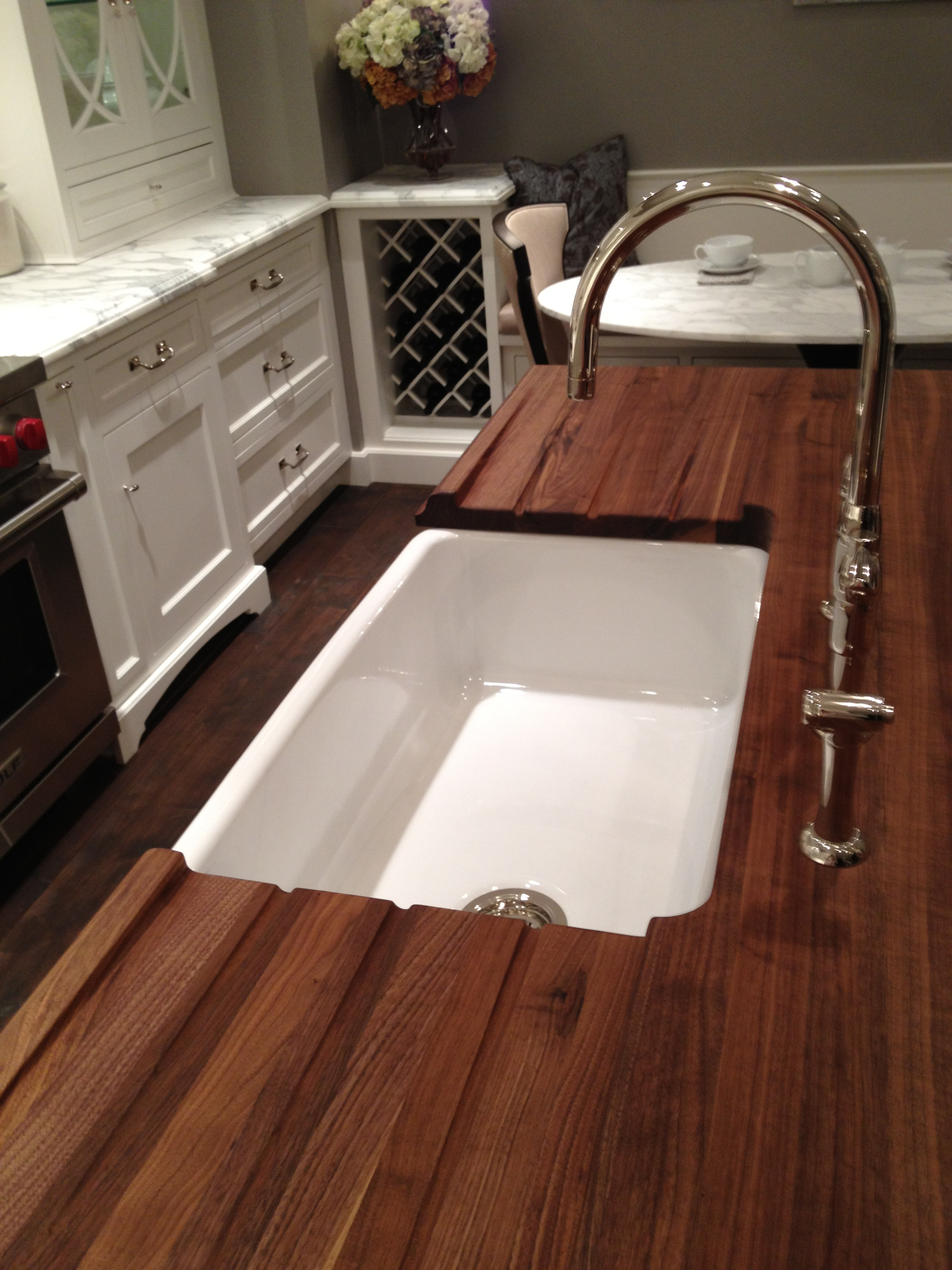 Kitchen Design Ideas – Counter Tops
Counter tops can add a fresh new look to even the most  tired of kitchens, and there are many types and styles from which to choose.  From the basic high pressure laminate to the latest in stone,  granite, quartz or even coloured concrete, counter tops are a key design element.   By choosing the right style and color,  a new counter top can transform your kitchen.  If your current layout is right for you, then an updated counter top  might be just enough to provide that refreshed look without undertaking  a major construction project.
Kitchen Design Ideas – Color and Decor
Another element that is often overlooked is paint.   Paint can provide a very dramatic effect with a very modest price tag.  In many cases, homeowners are unaware that kitchen cabinets can be painted. Today's modern paint finishes are available in a wide variety of types to suit your needs.   They  can cover most surfaces easily while providing a very durable and long lasting finish.  By using light-colored natural tones,  you can turn a dark, tired looking room into a bright, cheerful, welcoming space at a fraction of the cost of replacing the existing cabinets.   Whether you are considering all new cabinets, new cabinet doors or just refreshing the finish of your current cabinets, there many options available to you.
Kitchen Design Ideas – Hardware
Another practical updating element is changing your cabinet hardware. Things like door hinges, cabinet handles and drawer pulls will go a long way to updating the look and coordinating the décor of your kitchen renovation. While you are thinking about the hardware on your cabinetry perhaps there is also an opportunity to improve how your doors and drawers work by upgrading or replacing worn out drawer slides and other operational elements.  You can also improve the storage efficiency of the interior of the cabinets by adding sliding storage containers, blind corner sliders or something as simple as cut to measure cutlery drawer inserts.  This is a good time to consider things like open storage verse closed cabinets, glass doors inserts and accent lighting.
Kitchen Design Ideas – Fixtures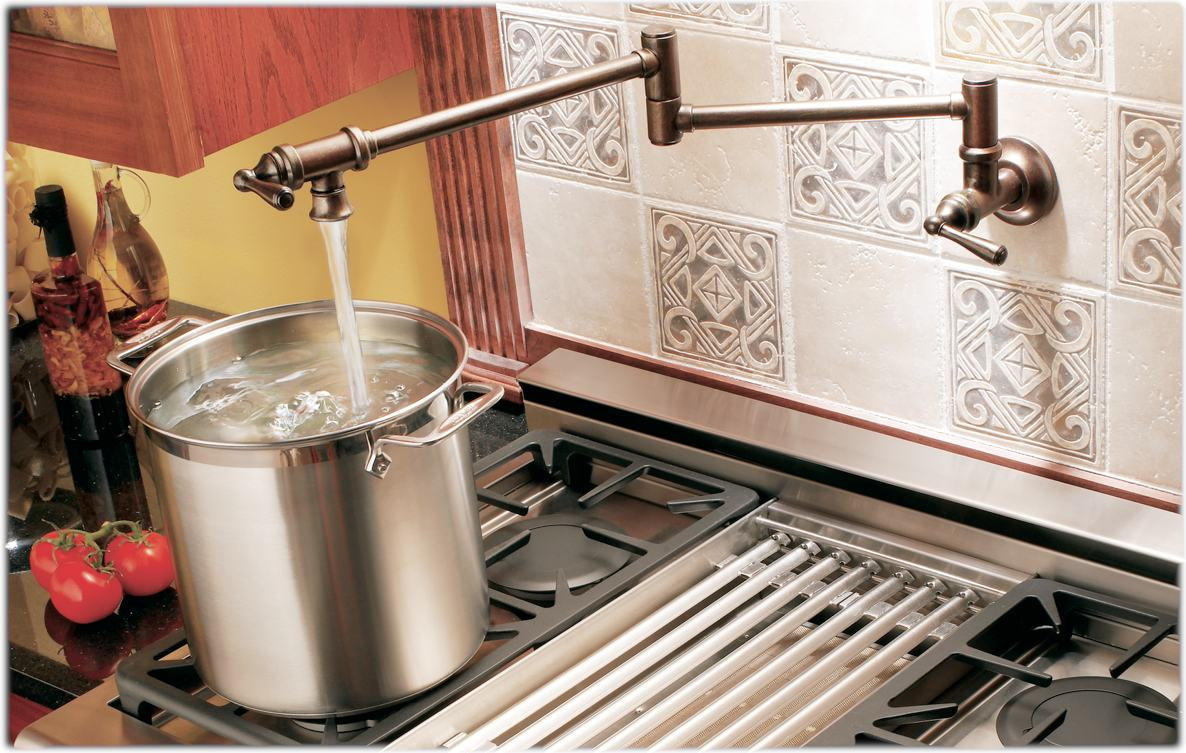 If you have ever walked the isles of a specialty plumbing store, or browsed your local home improvement center,  you will have noticed that there are a wide variety of alternatives in sink and faucet styles.
These options provide endless opportunity to customize your kitchen style, and enhance your decor.  Of course prices vary widely,  but rest assured that there are fixtures available that can
please both your eye and your pocketbook.
Be sure to give due consideration to the importance of this element in your finished project.  We frequently look at these items as just a functional aspect of the kitchen.  However,  when the time is taken to coordinate stylized fixtures into the decor,  the results make a lasting impression.
Kitchen Design Ideas – Back splash
This is much more than a decorative element in a number of cases. With today's high- efficiency gas appliances, many ranges are flush with counter tops and walls.  In these instances, a proper
barrier on the walls or vertical surfaces around the appliance are a safety requirement.   Many of the common materials like ceramic or porcelain tiles provide a decorative touch in combination with the required  flame retardants. With the trend towards the commercial-style appliances developed for the home chef, these elements have increasingly taken on a commercial-kitchen feel with stainless steel and similar materials.
Kitchen Design Ideas – Lighting
Lighting form and function are important aspects to consider when creating your new kitchen design. This can be as simple as updating the overhead light fixture to adding task lighting or under
cabinet lighting. Your lighting choices can enhance the mood of your kitchen in a big way.
There is no more frustrating experience than using a sharp knife at a cutting board with inadequate lighting!   There is no need to endure the frustrations if inadequate lighting  because creative and decorative solutions to this problem are widely available at a variety of price points.
The development of new energy efficient options like LED lighting are a very easy and cost effective way to improve the look and overall efficiency of your kitchen.  For more information on the types and function of lighting check out the American Lighting Association.
Kitchen Design Ideas – Ceilings and Walls
After deciding on windows, wall cabinets, floors and backslash, you will need to consider the finishing of the walls.  And let's not forget the ceiling while we are at it.  It may be as simple as choosing the right color of paint but walls and ceilings provide more opportunities to enhance the kitchen decor.   Get creative!  It's your home.  Personalize it with finishes that you love.
Your next steps
Start by making sure you have your project ideas and information properly organized, quinju.com is a free service that works as home improvement portfolio tool. Think of it as your home renovation binder that you have access from anywhere, anytime from any device.
The things that we have discussed to this point are very basic aspects to consider if you are a professional.   But for the average homeowner, these decisions can be quite daunting.  We all want to spend our money wisely to get the most bang for our buck.  So before you begin you must ask yourself, "Do I have the skills, resources and desire to take on a kitchen renovation?"
A good way to begin is by gathering information and educating yourself. From methods and  materials to tools and tweaks, we can help. We've got answers available 24 hour a day.  So take that first step.  Get started with quinju.com today!  It's like having a friend in the business!